Upcoming in 2023
Youth Hockey School at UMass Lowell
Tsongas Center
Lowell, MA
Monday-Thursday
July 24 - July 27, 2023
More info »

NOTE: Our 2023 Youth School is FULL.
Our Focus
Our focus is the student athlete. We match players of similar ages and/or ability level to allow our instructors and evaluators the opportunity to determine which young men demonstrate the skill and determination to be college athletes. Recommended for "AAA and Junior Players".
Goals
Education: What opportunities lie ahead and how to get them
Guidance: Maximum interaction with current college coaches
Exposure: Showcase your skills while college coaches evaluate
Fun: Learn what it takes to compete and play in college
Testimonials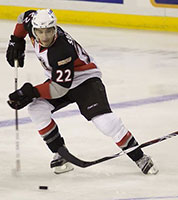 Without the guidance of Norm's camp I wouldn't have had the knowledge of what grades I needed to become a college player. Subsequently, I was able to bring my average up, got the opportunity to reach college and was fortunate enough to sign a pro contract with Anaheim out of Colorado College.
— Brian Salcido
WCHA League All-Star
2008 AHL League All-Star
Dear Mr. Bazin,
My experience with the Altitude Hockey has been nothing short of amazing, the level of competitiveness and coaching staff have come unmatched to any other hockey camp I have attended. Organically this camp was exceptional, the schedule was very easy to follow and there was no problem knowing where to be. The seminars were very informative and helped to answer most of the questions I had previously had about collegiate hockey.
I highly enjoyed the pre game practices in the morning. The drills were very fast paced and high tempo, led by great experienced on ice coaches.
My biggest highlight of this camp had to be getting some exposure to the collegiate coaches, and to meet and hear some of their expectations on us players. My goal of playing NCAA hockey were heightened by this camp and will hopefully assist in some NCAA opportunities.
I thank you very much for letting me attend the Altitude Hockey Camp and I hope to join you next year.
Sincerely,
Wyatt Petryshen
Also wanted to take the opportunity to thank you and the other coaches for coming up to Okotoks and putting on the camp. The experience and confidence gained helped Michael have a great main camp with the Okotoks Oilers. Regardless, it has pushed Michael to another level which will show up in minor midget if he returns to that team. The experience gained at your camp, where he now knows he can skate and compete at that level, was invaluable. For the 15s that attended your camp, the consensus among the parents is that the Altitude camp was the one of the best camps attended this summer and early fall. Thanks again. We look forward to attending again next summer. Please keep us on your distribution/invite list. If you need any other information just let me know.
Regards,
Terry J. Winnitoy
Hi Norm,
I just wanted to thank you for the camp. Josh had a great time and the competition was excellent preparation for his Sherwood Park Crusaders tryouts this week. It was also a great opportunity to learn more about the US college path in hockey. Thank you once again and we look forward to next year's camp.
Sincerely,
Tim Healey
The list continues to grow!
Congratulations to all of our participants from 2008-2019
who have gone on to college
Tyler Sifferlen - Malden Catholic/UMass Lowell
Brady Rouleau - Cowichan Valley, BCHL/Quinnipiac
Josh Monk - Langley, BCHL/Providence College
Davis Jones - Nipawin, SJHL/University of Fairbanks
Alex Globke - Port Huron, NAHL/Lake Superior State
Daniel Mele - Springfield Pics, EJHL/University of Connecticut
Andrew Windsor - Trenton GOJHL/Brockport, Division 3
Tom Panico - Team Comcast Midget/UMass Lowell
Blake Leask - Bonnyville, AJHL/UAA, WCHA
Dan Correale - Nanaimo, BCHL/UNH, HE
Craig Bohkenfohr - Camrose, AJHL/RPI, ECAC
Kenney Morrisson – Omaha, USHL/Western Michigan
Rhett Holland – Okotoks, AJHL/Michigan State
Reed Linaker – Spruce Grove, AJHL/Penn State
Cullen Bradshaw – Humbolt, SJHL/Sacred Heart
Vincenzo Marrozzi – St.Albert, AJHL/Cornell
Kevin Mills – Calg Canucks, AJHL/Princeton
Braely Torris – Ft. McMurray, AJHL/Southern Maine
Bryce Johnson – Topeka, NAHL/St.Cloud State
Quinn Sproule – Okotoks, AJHL/Univ of Alaska Anchorage
Brandon Gracel – Ft. McMurray, AJHL/UMass Amherst
Curtis DeBruyn – Olds, AJHL/Alabama Huntsville
Trevor Smyth – Drumheller, AJHL/Brown University
Dave Killip – Salmon Arm, BCHL/Western Michigan
Ben Lake – Ft. McMurray, AJHL/Sacred Heart
Richard Hilton – Calg Royals, AJHL/Marian College
Sam Brittain – Canmore, AJHL/Denver University
Steve Murray – Calgary Canucks, AJHL/Williams College
Matt Williams – Fort McMurray, AJHL/Niagara University
Kevin Walrod – Cowichan Valley, BCHL/Michigan State
Brandon Ellis – Westside, BCHL/Merrimack College
Corban Knight – Okotoks, AJHL/University of North Dakota
Rob Gunderson – Brooks, AJHL/Alaska Anchorage
Jesse Hudkins – Okotoks, AJHL/Yale University
Dennis Rix – Grand Prairie, AJHL/Michigan Tech University
Mitch Stretch – Notre Dame, SJHL/Sacred Heart University
Jeff Jubinville – Wenatchee, NAHL/Bemidji University
Bryce Orban – Olds, AJHL/Bemidji State University
Tom Krochus – Camrose, AJHL/Princeton University
Tanner Fritz – Grande Prairie, AJHL/ Ohio State University
Evan Stack-Merritt - BCHL/UMass Amherst
Chris Duszynski – Okotoks, AJHL/Norwich University
Preston Shupe – Weyburn, SJHL/ Canisius
Kevin Carpenter – Notre Dame, SJHL/Potsdam University
Sean Cahill – Okotoks, AJHL/ University of Fairbanks Alaska
Derek Rodwell – Okotoks, AJHL/University of North Dakota
Carson Schell – Weyburn, SJHL/Geneseo University
Mathieu Dugas – Wenatchee, NAHL/Bemidji State University
Tyler Matthews – NAHL/Niagara University
Brandon Hogenboom – Okotoks, AJHL/Wisc.River Falls
John McInnis – Okotoks, AJHL/Mankato State University
Jordan Principalli – Okotoks, AJHL/Adrian College
Mark Friesen – Langley, BCHL/Fredonia State
Rodger Craig – Okotoks, AJHL/Cornell University
Jeff Holloway – Drayton Valley, AJHL/Fredonia State
Bryce Williamson – St.Albert, AJHL/Bowling Green University
Archie Dessert - NAHL/Holy Cross
Kyle MacKinnon - BCHL/Providence
Brian Salcido - Colorado College/Anaheim NHL
Matt Ford - SSM/Wisconsin
Derrick Burnett - Okotoks/Air Force Academy
Nick Hopper - NAHL/USHL/UNO
David Inman - USNDP/Yale 
Steve Jackiel - USHL/Michigan
John Kemp - USHL/UNO 
Brett Sterling - USNDP/CC/Atlanta NHL
Cory Patterson - Okotoks/NAHL/Army
Adam Cardwell - NAHL/UNO
Rhett Rakhshani - USNDP/Denver
Andreas Vlassopoulos - USNDP/CC
Dan Quilico - BCHL/Colorado College
Jordan Zitoun - Wexford/Hobart College